If you're looking for a Drum & Bass mailing list service, or perhaps House, Techno or pretty much any other genre of dance music, this Promo.ly review is for you.
This is one of the promotional services we use here at Dojo to broaden our reach and get our music played on radio stations, in clubs and at festivals.
In this review, I'll run through everything you need to know, including the types of DJ to expect in the promo pool, tips for a successful campaign, pricing, and more.
About Promo.ly
Even in this digital age where you can search through social media and find the contact details of  DJs that might play your music, or labels that might be interested in signing your tracks, it takes up a lot of time – time that could be better spent making music.
Moreover, sending your music out in this way is really hit and miss; because you rarely get a reply and you don't know whether a DJ likes your music or whether or not they are going to play it.
It can also feel a bit like you're begging for people to listen to your music; because you're operating in an environment where you are essentially cold calling the person.
They haven't asked you to contact them and you don't really have permission. It's technically spam, and this makes this interaction awkward at times.
The great thing about Promo.ly is that the DJs in their pool of contacts are there because they want to receive new music. They have signed up to the service.
When you send your music to them, they are obliged to reply with a comment letting you know what they thought.
You can also see in your dashboard whether they have listened to the track and downloaded it. This is great for marketing purposes because you have real-time data on those interacting with your music.
In a nutshell, Promo.ly  connects producers of music with DJs who are actively seeking new music for their radio show and club sets.
My Experience with Promo.ly
For this particular campaign, I identified approximately 170 contacts that I wanted to send my music to.
I went through the contacts in the pool and pretty much added anyone who primarily played Drum & Bass.
Unless they specifically stated that they only played a certain style, such as Neurofunk,  which is a far throw from the style of this release, I added them to my subscriber list.
I think it's important to go fairly broad with your campaign for the following reasons:
A small number of your emails are going to bounce back.

Some of your emails will naturally go to the spam folder and probably won't be found.

Your style of music won't be suited to every DJ you send to.

Some DJs will give you positive feedback but then you will see that they didn't download the tracks. No doubt they just want to make sure they stay on your list.
All of the above are to be expected when sending out emails.
It becomes clear pretty quickly that some of the DJs on there are far more active than others.
Some were very quick in getting back to me and providing their comments, ratings and grabbing their downloads. Others trickled in over the following week.
Interestingly, up to a month later I am still getting  opens and comments and downloads on this campaign.
Again, this is  the nature of email: Many DJs are busy with their day job and their families and probably have a particular day of the week where they download new music and prepare a set.
Campaign Results
Here's some of the stats from my campaign dashboard:
Sent: 173

Downloaded: 44

Commented: 41

Unopened: 91

Bounced: 16
To some this might seem a little disappointing, considering I sent 173 emails. But actually it's pretty good.
This means that 44 DJs are probably going to play one of the two tracks I sent out on a radio station or at a club.
It means that at the click of a button, I gained 44 influencers, all who will be keen to receive new material.
Ask yourself: How long would it take to achieve the same doing outreach on Instagram or Twitter?
And here's the thing: I can retarget those that didn't open the first email, which you should always do when conducting email marketing anyway.
+ Click here to visit Promo.ly
Types of DJ
It goes without saying that the majority of DJs in the pool are tier 2. By that I mean not the most prolific, famous DJs.
In terms of Drum & Bass, you're not going to be able to send to Andy C or Sub Focus through Promo.ly.
The huge DJ-producers have agents and are very hard to reach without an introduction. You'll have to do your own outreach for top tier 1 DJs through their websites and social media accounts.
That being said, there are a number of what I would call in-between tier DJs; those who run labels and those DJ-producers who have since signed to big labels after having signed up to Promo.ly.
I should mention that there are a couple of big players. I did receive feedback from someone at Formation Records, though in the interest of confidentiality I won't name them.
Indeed, I haven't included any screenshots with names of DJs in because the platform operates a strict policy that rightly seeks to keep all contact details private.
I was pleased to see that for my genre there was a diverse range of DJs from the UK and the US, covering all the major online stations and many local clubs in different parts of the aforementioned countries.
I want my music to be heard. The point of being a creator is to share far and wide and reach as many people as possible.
So if those 44 downloaders play my music to an average of 20 people each, that's 880 people I wouldn't have reached otherwise. And that is a conservative estimate.
DJs create playlists too, which they post online in various places. They create podcast mixes too. All of this helps create exposure for your music and artist name.
Never underestimate the power of tier 2 DJs. They often live and breathe their passion, and they will promote your music with that passion too.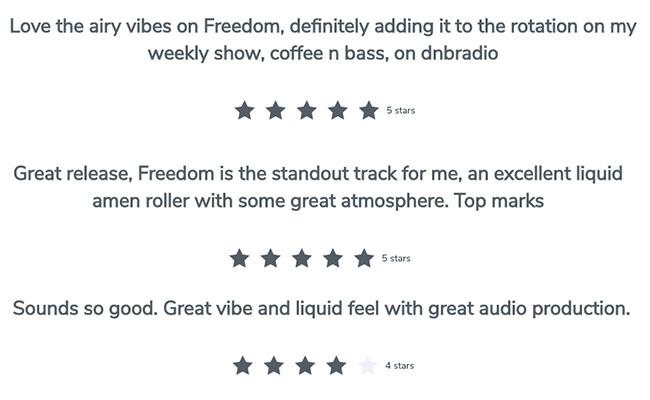 Tips for a Successful Promo Campaign
1. Go Broad
Cast your net as wide as you can without being completely off target.
Don't send D&B to a techno-only DJ, but if you think a person might play the track because the genre is listed in their profile then add them to your subscriber pool.
2. Include a Profile
Take some time over crafting an artist bio and a description for each track. Lay this information out neatly, almost like a press release.
Keep things relevant and concise, and break up paragraphs so they are easy to read.
Make sure you proofread your email for mistakes. Once it's sent you can't make changes!
This is your chance to let all these DJs know who you are and what you represent.
Also include your artist picture or label logo.
3. Don't Send More Than 2 Tracks
People are short on time and unlikely to listen to more than 3 tracks in great detail.
Furthermore, DJs don't often put more than two tracks by one artist in a set – unless the artist is well known.
Two tracks is perfect in my opinion, as most DJs will pick one of the two to play.
Overloading DJs with 3 or more tracks means they are likely to pick one and ignore the rest, whereas if you had sent them separately they might have given them all a spin.
4. Use a Compelling Subject Title
Don't just paste the names of your track in the email subject title. Think of a title that is likely to make people click.
I used: New Music for You – Download Now!
'New' is exciting. 'You' is personal. 'Download Now' is a call to action (CTA).
I've tested this headline in my outreach efforts and it works well. Feel free to use it.
For my next campaign I might go for a shorter headline. Something like: 2 New Tracks for Download.
Having worked in music marketing and marketing in general for many years, I'll do a post soon with some good email subjects you can use on influencers to get your emails and social DMs opened.
Promo.ly Pricing
The basic plan starts at £15 per month, for 750 sends (recipients). For most individual artists that is more than enough.
For labels releasing more than a track a month, the professional plan gives you 5k sends for £30 a month.
If you don't think you'll need to use the service each month, you can buy credits inside the dashboard at 0.02 per send. 250 sends = £5. Good value!
Free Trial
The good news is you can try the service free. You get a 7-day free trial with 150 sends.
That's easily enough to create a solid campaign and get substantial feedback. You don't have to sign up with a credit card either.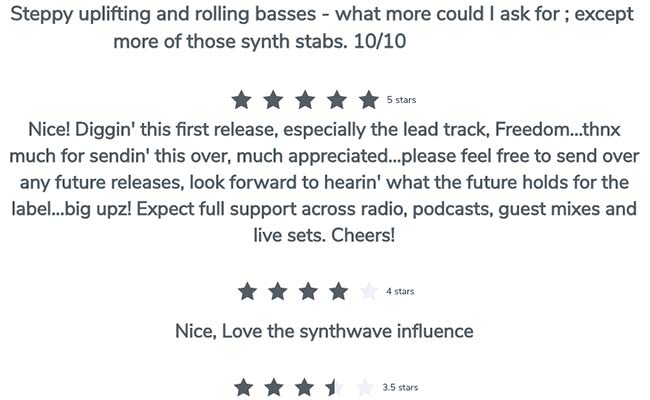 The Bottom Line
When I used to run the Beatfreaks mailing list back in the early 2000's, we had some 200+  core DJs.
I'd have the intern stuff the mailers with the promo vinyl and feedback form. Then of he'd trot to the post office and send them out.
We had to pay for the promo run of vinyl, the mailers and the postage.
We'd then wait for the feedback form to come back in and log the details.
This cost in excess of £300 per mail-out!
And when you factor in the labour cost, and cost of opportunity for getting other stuff done, it's very expensive and time consuming.
Promo.ly costs a measly £15 a month, or you can use top-up credits as and when you need them. It's cheap as chips.
Pros:
Immediately tap into a pool of eager DJs waiting to hear your music.

Send multiple tracks.

Include a press release or blurb (no limit on info).

Include your label logo or an artist image.

Track who opens, plays, and feeds back on your tracks.

Upload new contacts you source elsewhere to your subscriber list.

Download your feedback in .CSV format.
Cons:
I'd like more DJs. There's enough there to warrant using the service but some aren't active and it would be good if the platform renewed the pool with an ad campaign or organic outreach to get more DJs on board.

You can't automatically create an email that targets everyone who didn't open the first campaign.

You can't currently filter by genre to save time going through everyone on the list.
There's no reason not to use Promo.ly.
It's inexpensive, it's easy to use, and you can reach a bunch of DJs who might play your track at the click of a send button.
Marketing is hit and miss by nature, but the more tools you have at your disposal to better target your audience the more likely you are to succeed.
The whole reason you make music is to get it heard. Promo.ly is one tool in your arsenal to help you reach more DJs, who in turn help you reach more listeners.
---